A Subtle Introduction
The lives of great men have always been an open book. Their true intent is found only when we are fortune enough to have them close to us. Hence, writing the introduction of Pujya Guruvar Bhagwat-Bhushan Pt. Shri Srinathji Shastri, Puranacharya ( Pujya Shridadaguruji ) would be an understatement regardless of how much effort is put into it.
धर्मो मद्भक्तिकृत् प्रोक्तो ज्ञानं चैकात्म्यदर्शनम् ।
गुणेष्वसङ्गो वैराग्यमैश्वर्यं चाणिमादय: ।।
(श्रीमद्भागवत ११/१९/२७ )
dharmo madbhaktikṛt prokto jñānahak caikātmyadarśanam ।
gueśvasaṅgo vairāgyamaiṃvaryaṇ cāāimādaya: ।।
(śrīmadbhāgavata 11/19/27 )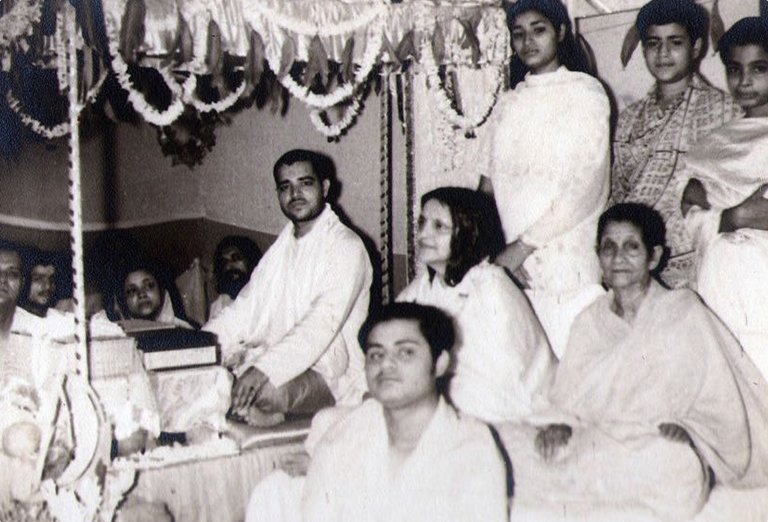 He was born to Nikunjwasi Shri Ratiramji Mishra and mother Smt. Gopidevi on September 29, 1923 (Ashwin Krishna tritya, Vikram Samvat) in Agstaya gotra in Mathura. Amongst the four children, he had a sister, Mrs Savitri Devi and younger brothers namely Shri Gopinathji and Shri Amarnath Brahmachariji.
In 1950, he was entitled as the "Ayurvedic Master". In 1952, he successfully completed the formal education of Acharya from Kashi, studying under the revered Shri Ramamurthi Pauranikaji. On his return to Vrindavan, he learned the Saptahik Katha Shaili from Shri Nathilalji, studied Shastras under Shri Kedar Nathji, and finally gained Deeksha from Gurudev  Pushtimargiy Acharya Goswami Shri Devaki Nandanji Maharaj from Kota (Rajasthan)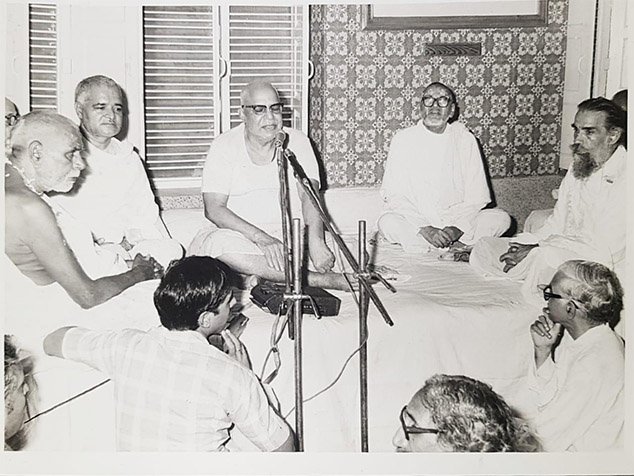 He has also performed Ramachar (Shriram Poojan) a number of times. Besides this, he had the fortuity of narration in presence of Swami Shri Aakhandanand Saraswatiji Maharaj, Poojya Shrikarpaatriji Maharaj, Shri Prabhudhutt Brahmachariji Maharaj, Swami Shri Vishnu Ashramji Maharaj and amongst saints like Hari Babaji Maharaj, Shri Udiya Babaji Maharaj, Pujya Shri Anandamammi Maa etc..
Inspired by Shri Shukracharyaji, the ultimate scholar, conceived the idea of establishing Shrimad Bhagwat Vidhyalay (school of Shrimad Bhagwatam ), to serve the Lord Shri Bhagwat Bhagwan, which is operative since 1964 in Sri Vrindavan Dham. In about 70 years, he preached more than 1500 kathas which made him insightful. Shastriji Maharaj considered Srimad Bhagwat as a depiction of the Shri Krishna's story. He could recite the Katha with appealing modulations, deploying the ancient methods of narration.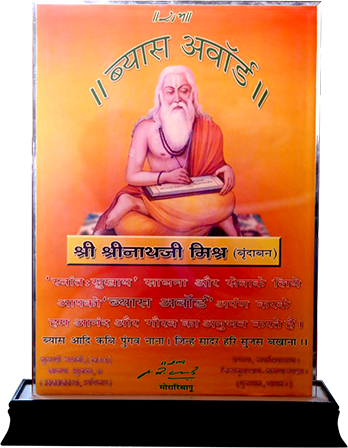 On August 22, 2015, on the occasion of Sree Tulsi Jayanti, he was conferred upon the "Vyas Award" by Sri Morari Bapu which was the inaugural year for the award ceremony. He asserted the saying "what I am is only by the grace of saints, I have nothing of my own."
He has three sons- Dr. Devendranath Shastri, Dr. Krishna kumar Sharma, Dr. Manoja Mohan Shastri . He had entrusted all his responsibilities on his grandson, Shri Anurag Krishna Shastri (Shri Kanhaiyaji ), who is also his graceful disciple.  He  instilled all of your qualities in him.
By devoting all the obligations of a noble man, and instituting of Bhagvat Education for the Brahmins, after 92 years of a fulfilling life he left for his heavenly abode on Thursday, 17th December 2015 (Vikram Samnvat 2072).
We are left with the ultimate goal of life to upkeep these educative plants, following his  goodwill of yours. Virtually, all great men never die. They are constantly incarnated in the form of their teachings and ideals of life and continue to dwell in our hearts.